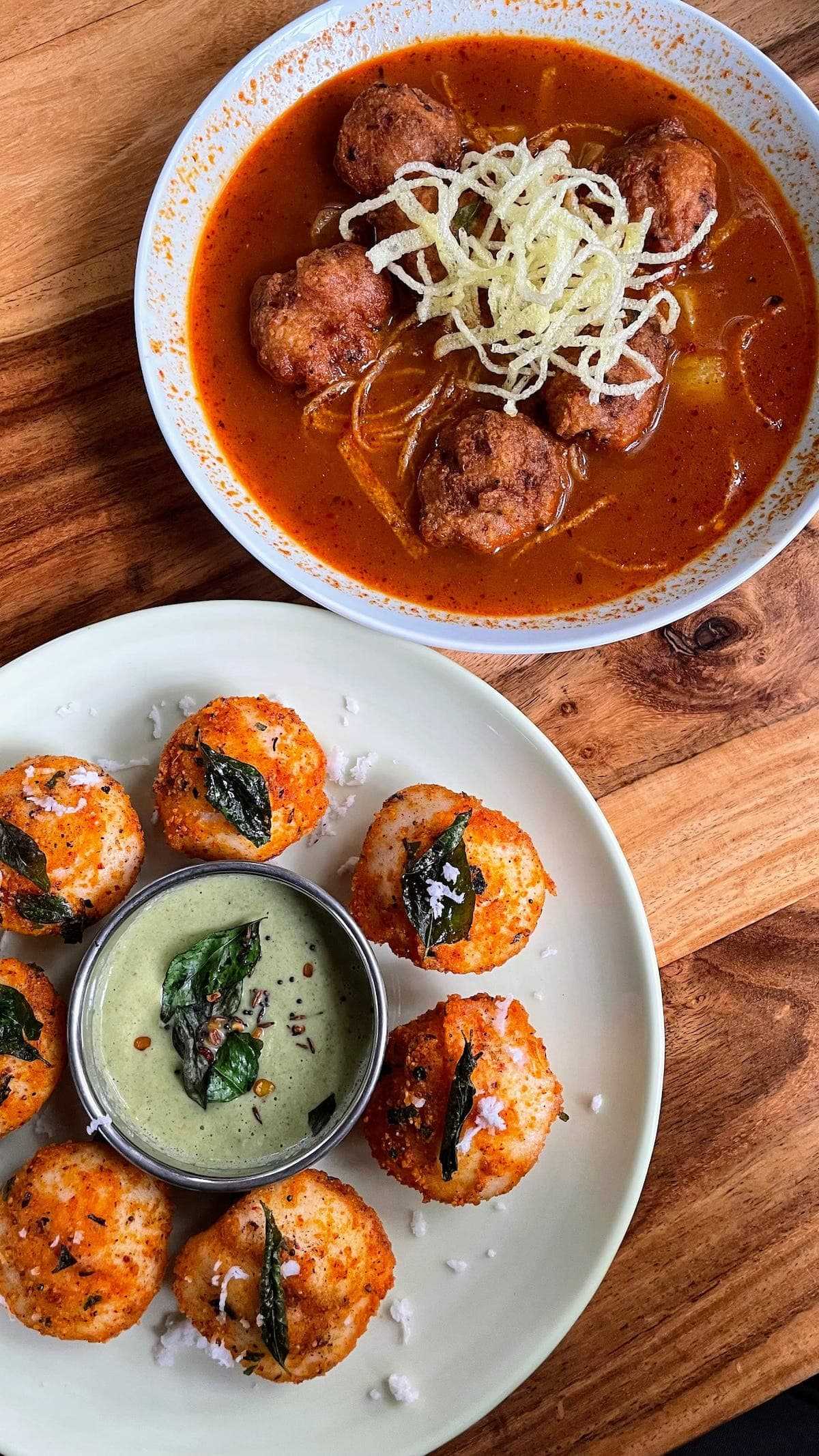 Bangalore places I like to eat at and order from
September 4, 2022
On the occasion of completing a year in Bangalore, here are my favorites and regulars. I've eaten at/from over 100 places with an avg. of at least 2 items at each place, and have tried to maintain an Airtable as I go about journey. Will be trying my best to keep this list updated.
---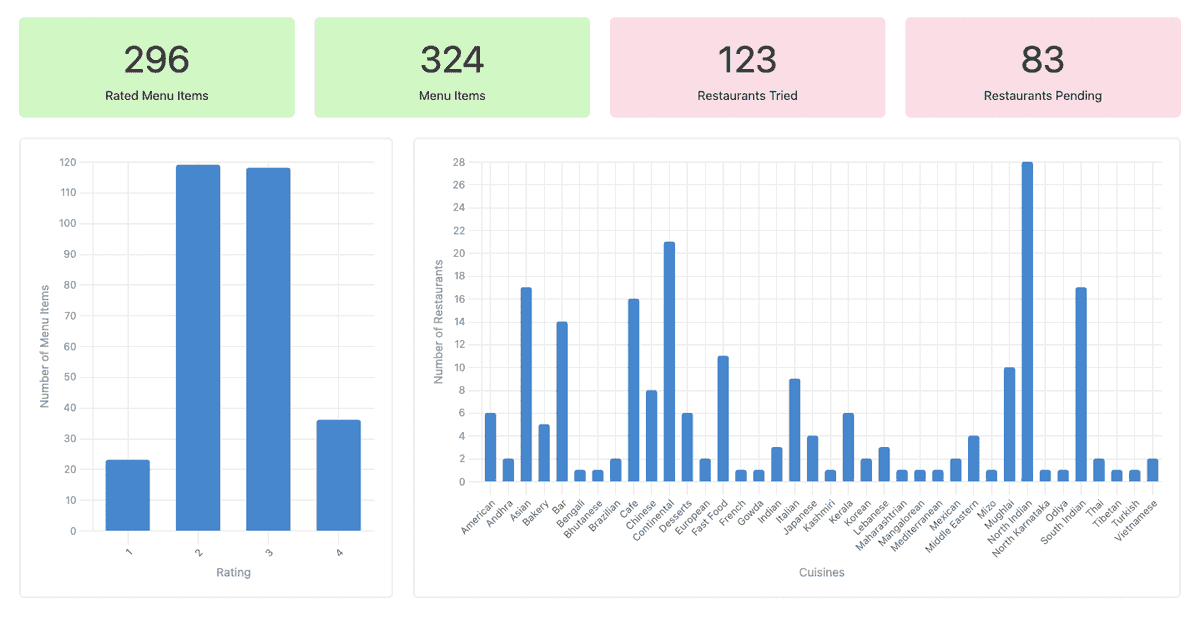 ---
Update: Pleasantly surprised by how popular this got. Because of which, Deccan Herald wrote about this list! Much thanks to Barkha Kumari and everyone else.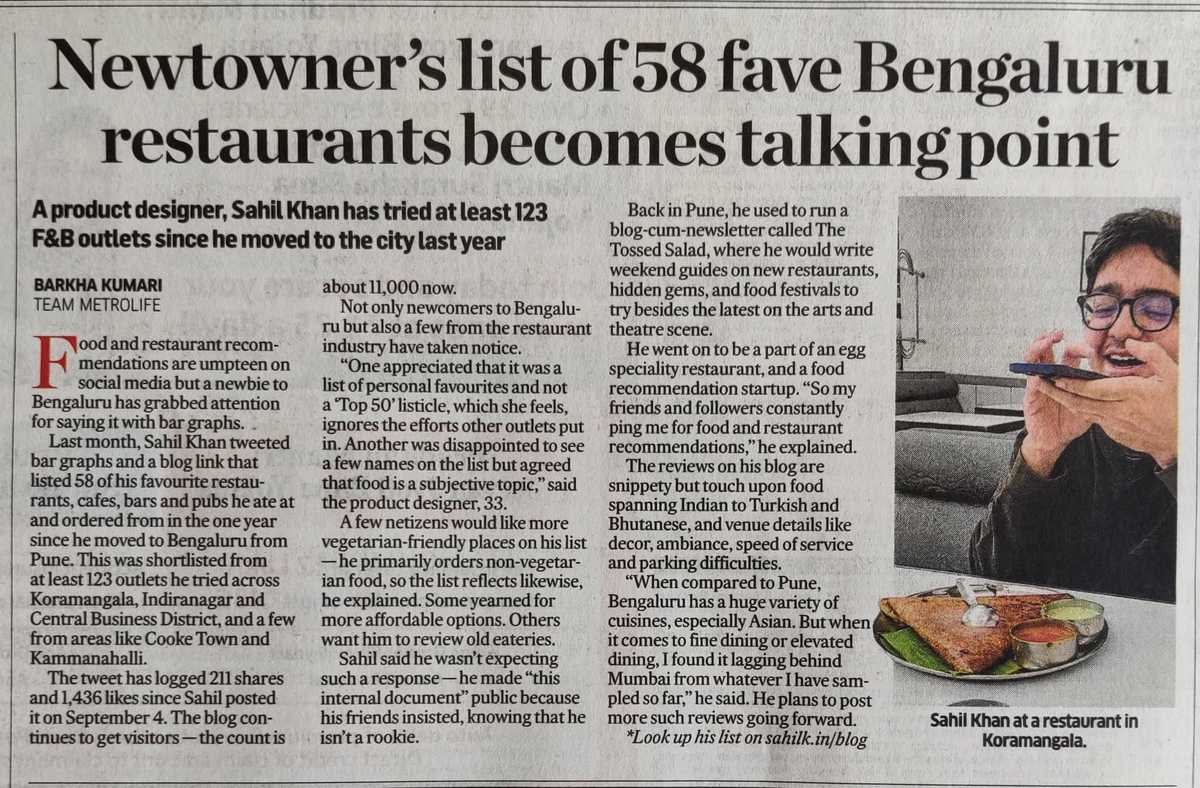 ---
What are your favorite places to eat at? DM me on Twitter or Instagram?
Thindi fans, do forgive me for my choices. To the rest, happy eating! :)
Breakfast & Cafes
IDC, Residency Road is my preference but has multiple outlets, ghee masala thatte idli and ghee masala dosa, think they let the ghee in the dosas brown just a little bit more to have that nutty flavour making all the difference for me compared to other places
Blue Tokai, Koramangala and other outlets, best coffee in town as of now, Koramangala outlet with the sky light is the prettiest outlet, get the iced pour-over in light roast
Lavonne, Indiranagar, good coffee and eggs for breakfast
Umesh Refreshments, Seshadripuram, now in Indiranagar as well, but prefer the older outlet just for the abundant tree coverage while the crowd stands on the streets and downs their excellent ghee podi dosas
Veena Stores, Malleswaram, love their idlis for the slight fermented notes, just god damn too far
Taaza Thindi, Jayanagar, as much as I like them for the crisp wadas and excellent chutney, really appreciate the speed at which they move the crowds at
Raghavendra Tiffin, Koramangala
Benki Coffee, JP Nagar, take-away or delivery only, pretty solid coffee, open early morning
Caffeine Baar Cafe & Roastery, Jayanagar, if I'm in the vicinity
Maverick & Farmer, Ulsoor, good spot, parking can be tough, decent coffee, good Turkish eggs
Lunch & Dinner
Shaap or Salt Mango Tree, Indiranagar, for casual-dine Kerala food, the first one being a little hole in the wall
Soora Sang, Indiranagar, Korean bbq, aunty's sweet but will judge you hard if you pretend to know things
Arirang, Kammanahalli, Korean fried chicken, beef bulgogi hot pot with a crack cocaine of a soup
Harima, Residency Road, Japanese, bento boxes for lunch at 575rs is fantastic VFM, get the yakitori, sushi, and tanshio
Portland Steak House, Ashok Nagar, and Burger Seigneur, Indiranagar for beef burgers
Leon Grill, multiple outlets but I've only gotten delivery, and Toast & Tonic, Ashok Nagar, for fried chicken burgers
Khazana Food Paradise, Richmond Town for beef biryani, Sharief Bhai, Mosque Road and other outlets, for mutton biryani
Naru Noodle Bar, Kengal Hanumanthaiah Road, used to be home-delivery only, now opened as an eight-seater ramen bar at The Courtyard (a very popular events space), reservations for the week open on Mondays at 6pm, check their Instagram for reservation and my IG reel for slurping noises
Tenzin Kitchen, Koramangala, Tibetan, juicy af pork momos, have the beef shaptak with garlic fried rice
Go Native, Lavelle Road but multiple outlets, good coffee, quite like the stuffed guntur idlis and raw mango rasam wade
Wabi Sabi, Oberoi, MG Road, get the Peking duck
Royal Afghan, ITC Windsor, Vasanth Nagar, excellent kebabs and tandoor
Tunday Kababi, Koramangala and St Marks Road, this isn't the one from Lucknow, but I'm from Lucknow, and they do pretty decent job at the galouti kebabs and mutton korma
Naati Cafe, Koramangala, mutton/chicken curries with neer dosa
Chinita's, Koramangala, burritos and burrito bowls
Daily Sushi, Indiranagar, chicken katsu donburi
homely, delivery-only, quick, convenient, and decently priced home-style food
Kebapci, Koramangala, Turkish, get the gazia kebab and chicken mandi rice
Al Taza, Koramangala, only decent shawarma so far, shame that Al Badia shut down, been meaning to check out King of Taste
Sri Srinivasa Pork Hotel, Ejipura, 160rs for a plate for coorgi pork chilli masala and chapatis, pricing makes it look risky but have survived without any issues
Brik Oven, Indiranagar and other outlets, Pizza Bakery, Indiranagar and other outlets, Toscano, Church Street and other outlets, and Fat Cat Pizza Company, Indiranagar for pizzas (Pizza Bakery also does excellent stuffed garlic breads)
Boteco, Ashok Nagar, Brazilian, get the pao de queijo, escondidinho, carne na pedra, and the popcorn G&T featuring Bonomi's cold brew
Desserts & Bakes
Sour House, Koramangala, mostly a delivery clientele so a quiet unassuming spot, excellent breads and other bakes, love the passionfruit cruffin and honey sea salt croissant, always have a sourdough loaf from them in my kitchen, serves Blue Tokai coffee
Lavonne, Indiranagar and other outlets, good spot for breakfast and coffee, possibly the only place that can entice me with chocolate desserts — get the caramelized milk chocolate croissant and coffee & milk berliner
Magnolia Bakery, Indiranagar and other outlets, tres leches and classic banana pudding
Milano, Indiranagar and other outlets, gelato/sorbet, get the raspberry or strawberry sorbet with the dark chocolate gelato
KP Bakery, Shivaji Nagar, go by an auto, the hole-in-the-wall bakery is surrounded by garages, death by khoya naan, kheema naan available in the evenings
Bars & Pubs
Biere Library, Koramangala, love their IPAs
Windmills, Whitefield, love the space, prefer sitting at the bar if not in a large group, shame their beers aren't available at more accessible places
Arbor Brewing Co, Ashok Nagar, apart from the excellent beers get the beef burger with bacon
Seven Rivers Brewing, MG Road, good beers, lovely poolside seating inside the Taj
The Reservoire, Koramangala, good cocktails
Daddy, Indiranagar, good old fashioned and whiskey sour
Sathya's, Koramangala, friendly neighbourhood bar
Record Room, Ashok Nagar, from the folks behind Great State Aleworks in Pune, excellent music but gets very loud, listen to records on vinyl players on less busier days, Geist and Toit on tap, can't wait for GSA to be available soon, get the popcorn G&T featuring Bonomi's cold brew
Brunch & Meals
Bengaluru Oota Company, Cambridge Layout, exceptional Mangalorean/Gowda food, incredible how they maintain a sustained level of quality through the meal, reservations mandatory
Kappa Chakka Kandhari, Koramangala, for fine-dine Kerala food, fixed menu options of various sizes for you to choose from
Nagarjuna, Indiranagar and other outlets, Andhra meals, please don't eat before visiting, wear something with a relaxed fit
Little Kitchen, Koramangala, Kerala veg/chicken/fish meals
Besaveshwar Khanavali, Koramangala, very affordable North Karnataka veg meals, do get the holige (this is at the Wipro Park signal and is not the same as the more popular chain that serves the same cuisine and is more upmarket)
Bengali Dhekur, Koramangala, that begun bhaja will take me back
The Conservatory, Kengal Hanumanthaiah Road, terrace kitchen + seating at the The Courtyard, not a regular restaurant but they keep hosting exceptional chefs on a regular basis, keep an eye on their Instagram